A Place to Call Home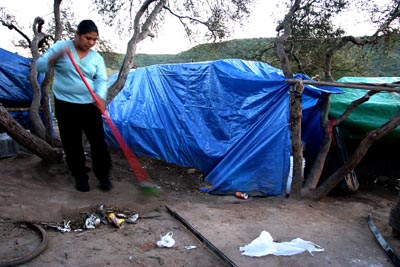 Photo courtesy of David Bacon
Last year at Slow Food Nation, some of the most deeply affecting moments came during the panel on farmworker justice, "A New, Fair Food System." Moderated by Eric Schlosser, the session brought together members of the Coalition of Immokalee Workers, the ILWU, CAUSE, and California Rural Legal Assistance to discuss the shocking conditions endured by the people who harvest our food. Among the powerful images presented by this group were a series of pictures of San Diego-area farmworker communities taken by photographer David Bacon and shared by José Padilla, Executive Director of CRLA. Literally in the shadows of multi-millon dollar suburban developments, the individuals Bacon portrayed live beneath tarps and glean through the cast-offs of the nearby homes. Video of the entire panel is included below, but if you forward the clip to 39:50, you can listen to Padilla discuss the housing conditions in Southern California.
While these conditions are not necessarily the standard for farms across the country, they sadly are not that unusual, either. In the first event of our "People Who Feed Us" series, Ramon Ramirez of PCUN spoke about how touchy the subject of farmworking housing can be, even among farmers with good practices. Like Padilla, Ramirez was very honest about the lack of awareness that shrouds the realities of immigrant farm housing. Many Americans believe the farmworkers are transient migrants who have no connection to a region. In reality, many are firmly rooted where they work, with families that are unable to find a safe and stable home in the same area. At our November event, Ramirez promised the audience that he would help us to visit some of the good housing that is being built right here in Oregon by groups like the Farmworker Housing Development Corporation. On May 2, you'll have the chance to see these communities.
Founded in 1990, the FHDC has spent the last two decades constructing livable housing developments for farmworker families in the Mid-Willamette Valley. In the process, they've helped to forge community amongst the workers and mobilize residents to overcome the stereotypes and prejudices that have plagued immigrant laborers. Many of the problems surrounding farmworker housing have little to do with the farms themselves. As immigrants who often have a limited grasp of English and an even shakier understanding of the American legal system, many farmworkers are prey to poor lending practices or face discrimination when applying for credit. When immigrant workers do find housing, it often lies outside of urban boundaries, making it all the more difficult for their family members to reach town services, other employment, or public schooling.
By developing properties within Williamette Valley towns, the FHDC not only assists farmworker families in forging their own stable networks, but also helps them to become active participants in the broader community. At their community centers, the FHDC organizes educational programs on literacy, job skills, healthy lifestyles and economic development topics including taxes and financial planning. A large component of their work focuses on empowering FHDC development residents to become active leaders in the Latino farmworker community – whether that means running youth programs, organizing groups for civic causes, or overseeing rental management. These efforts have combined to established vibrant neighborhoods of individuals who are more empowered in their everyday lives.
Please join us on May 2 to visit these Oregon communities and meet the people who call them home. You can sign up and find tickets below:
When:
Sat, May 2, 8:30am – 1:30pm
Where
: Farmworker Housing Development Corporation, 1274 Fifth Street 1-A, Woodburn, OR (map)
35 spots available
Colonia Libertad Housing Development – photo courtesy of Salemdailyphoto.com
Thanks for sharing