From Italy with Amore
by Jessica Pierce
The summers in Portland are brilliant. My memories of camping at the coast, eating the bounty from the farmers market and biking all over town in the sunshine are the experiences that I keep in the back of my mind during 9 months of dreary weather.
For the past 6 years, I have looked forward to these epic summers. But this year is different because I left Portland. I decided to make the Pacific Northwest my home and could not imagine any place I would rather live. Then I traveled to Italy.
I visited Italy 2 years ago on a solo wine trek across the Piemonte and Veneto regions. While visiting winemaker Sandro Barosi at Cascina Corte, he spoke of Piemonte's wine bank: Slow Food's selection of iconic wines representing every region of Italy, preserved in one historic cellar. He sketched a map and after leaving his cascina in Dogliani, I drove to the Banca del Vino in Pollenzo. I arrived to find everything closed for the holidays, but discovered a magnificent castle with a university right in the middle.
I snooped around a bit and was very curious about this place. A few weeks after I returned to the States, I remembered the school and found the website. Soon I sent off my application for the Masters Program in Food, Culture and Communications with a focus on Human Ecology and Sustainability. The name is a mouthful, but basically describes a food policy program from a very thoughtful, Slow Food point of view.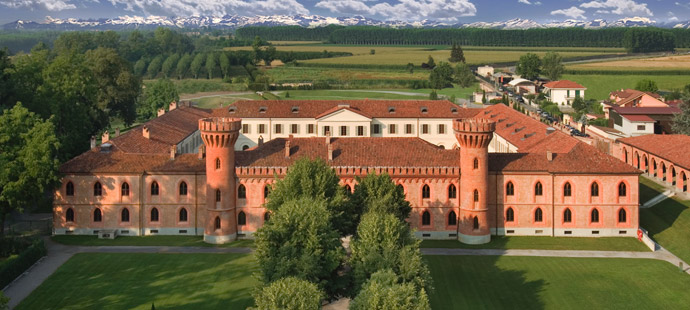 I left Portland 3 months ago and I think about it every day. The rolling hills of Barbaresco stand in the place of the Dundee Hills and I see the Alps from my window instead of Hood and St. Helens. I still shop at the farmers markets and my bike rides are a bit more substantial to and from school everyday.  The Ligurian coast is not much further than the Pacific was from PDX.  Daily life in Italy presents challenges due to my language constraints but the people are friendly and patient. In class we are pushed to our limits, constantly presented with food-related issues from around the world.  Carlo Petrini's office is next to our classroom and his energy and passion are almost tangible throughout the hallways of the Slow Food university.  Most days I leave class mentally and emotionally fatigued, but every day gaining more knowledge and power to help make real changes within our food systems when they release me back into the world.
I will be sending correspondence back to my Portland home through the Slow Food Portland blog.
Thanks, Jess
– – – – – – – – – – – – – – – – – – – – – – – – – – – – – – – – – – – – – – – – – – – – – – – – – – – – – – – –
Jess Pierce was previously the General Manager and Sommelier at Ned Ludd, An American Craft Kitchen in PDX. She also worked at Brooks Winery in Amity for the 2010 & 2011 harvests. Jess plans to return to Portland, eventually.
Thanks for sharing